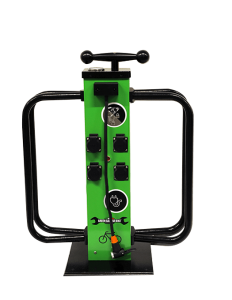 GREEN GARAGE BIKE project
The 230 Volts ebike inflation and charging station is easy to use as it is compatible with any type of bicycle.
The structure is light and sturdy.
The use of the pump and the pressure gauge allow the tire pressure to be checked.
The station is equipped with a high quality pump.
The pressure indicator is in a "glycerin" bath which does not allow condensation to form, in order to have a clear pressure reading (Max 8 bar).
PUMP
It is entirely made by GREEN GARAGE BIKE project, easy to use, compatible with all types of valves on the market (max 8 bar).
The "GLYCERINE" bath pressure indicator does not allow condensation to form, in order to have a clear pressure reading.
MATERIALS
Structure in anticorodal aluminum.
Various bolts in stainless steel.
HOW TO PLACE IT
The base of the station has 4 holes that allow fixing to the ground using the fixing caps supplied.
Anti-theft plugs are available on request.
Safety reason: before using the station we recommend its fixing.
MAINTENANCE
The station does not require any extraordinary maintenance, despite its exposure to atmospheric conditions, being made up of aluminum and steel components.
In winter, if it is not used, we recommend covering it.
Pump
We recommend that you periodically lubricate the stem.
WARRANTY
The warranty is 5 years on all the structural parts that make up the station, including the pump.
Parts subject to wear such as gaskets or rings etc. are an exception.
Spare parts for each component of the station are available : ask for prices and availability.
The warranty does not cover any damage caused by individuals or by vandalism.
THE WARRANTY IS TO BE INTENDED EXCLUSIVELY "GREEN GARAGE BIKE headquarter "
TECHNICAL SPECIFICATIONS
Dimensions and weight:
• Height 75 cm
• Width 44 cm
• Depth 30 cm
• Weight : 9/12Kg (depending on model)
E-BIKE DEVICE FEATURES
• N. 2/4 schuko sockets ip54 230 Volts
• N. 1/2 differential magnetothermic of 0.003 A
• WE PROVIDE DECLARATION OF SUITABILITY AND CONFORMITY
We ensure that all products created, under the GREEN GARAGE BIKE brand, are built following the standards required by international legislation, specifying them in the technical documentation, catalogs, website, etc. and are appropriate for the specific use.
We also ensure that the products used in our items are in line with the IEC 60900: 2004 standard.
GRAPHICS
Green Garage Bike project offers the possibility to customize the station with customer graphics. The vector file is required. A quotation of customization work will follow.